Logiciel d'assistance clientèle
logiciel d'assistance clientèle
Vos clients sont la partie la plus importante de votre entreprise. Un logiciel de service client vous permet d'établir de meilleures relations avec les clients.
Guide complet des meilleurs logiciels d'assistance client
Customer support software is the backbone of a great customer experience. But knowing which tools are right for your business, vetting providers, and getting the system implemented is no easy task.
To help you with that, we'll start with the basics of customer support software: what it is, the different types, and how it benefits your team. Then we'll get into best practices, the latest trends, and an overview of the best available tools. To wrap up, we'll walk through how to think about choosing the ideal customer support software for your organization.
Feel free to skip around by clicking through the table of contents below:
Qu'est-ce qu'un logiciel de service client ?
Customer service software is any program that helps an organization provide assistance and/or advice to the people who buy or use their products.
The most basic role of customer service software is to provide a centralized system, known as a ticketing system, where service agents can track, prioritize, manage, respond to, and resolve customer queries or employee requests en masse. Customer service software also includes any tool that helps inform or facilitate customer service delivery.
This includes tools such as knowledge bases, messaging apps, automation software, analytics dashboards, and more.
Customer service software is often integrated with a CRM to give agents access to contextual data, such as a customer's purchase history, from external sources. This equips a support team with context about who a customer is, where they're coming from, and why they're reaching out—regardless of channel.
How does customer service software work?
At its most basic level, customer service software enables businesses to improve customer service delivery by unifying customer conversations and information across channels and systems in a single location.
Why do small businesses need customer service apps?
Small businesses need customer service applications to help organize, prioritize, and consolidate customer service inquiries. When used well, customer service apps enable quicker, more reliable, and more personalized responses to customer inquiries. This helps small businesses set themselves apart with superior customer service.
Les avantages d'un logiciel de service client
Customer service platforms can benefit companies of all sizes and types—from multinational enterprises supporting millions of other businesses in multiple languages, to small consumer-facing businesses that need to answer customer questions quickly without hiring an army of support reps.
Here are some key benefits of customer service software:
Améliorer la satisfaction et la fidélité des clients

When service agents have the information and tools they need to provide fast, personalized responses to customers, they can deliver better service. With better service, your customers are less likely to churn and more likely to become loyal buyers.

And since 52 percent of customers go out of their way to buy from brands they're loyal to, more loyalty usually means more sales. In this way, by facilitating improved service, customer service software can help your business grow with more satisfied, loyal customers.

Streamlines self-service

63 percent of customers always or almost always start with a search of a company's online resources when they have an issue. For enterprises, the challenge is managing a system for creating and updating those resources in real-time.

Customer service platforms enable your business to streamline knowledge base creation and management, saving agents time and providing customers with the resources they need. Plus, you can track how your customers are using your knowledge base to help inform further self-service improvements.

Favoriser une expérience fluide pour les agents

Customer service tools help agents access and use the customer information they need, when and where they need it. These tools also facilitate improved internal collaboration with shared inboxes and greater efficiency with streamlined workflows. The result is agents that are more prepared and motivated to provide better customer care. All that leads to greater productivity, saving the business time and resources.

Donner aux entreprises la possibilité de se développer plus intelligemment

At a certain point, rudimentary tools like spreadsheets aren't enough to facilitate transparent internal and external customer service communications. But without effective collaboration among your service team, maintaining high levels of customer satisfaction as your business grows is nearly impossible.

Customer service applications give a business the power of customer-centric agility. In other words, they enable a company to grow and scale based on the needs of its customers.

Enables smaller teams to do more, faster

The speed of 'first reply' is one of the biggest influencers on customer satisfaction. But with so many service channels and the growing demand for personalization, service agents need customer service apps to help them respond to and resolve issues faster.

And the data backs this up: in the Zendesk Benchmark Guide for Enterprise, the top-performing service teams have almost double the ticket-to-agent ratio of other companies. The way they perform well with fewer agents is by using customer service software that enables each agent to do more.
Les types de logiciels de service client
Leservice client peut être interne, soutenant les employés au sein d'une entreprise, ou externe, soutenant les personnes qui achètent ou utilisent ses produits ou services.
Chaque canal de service client est souvent considéré comme un type différent de service client. Voici les principaux types de service client que vous devez connaître :
Live Chat
Lelogiciel de chat en direct permet aux agents de résoudre les problèmes des clients en temps réel, à partir de l'endroit où ils se trouvent déjà, par exemple la page d'accueil de votre site web ou l'intérieur de votre application mobile.
This gives a business the ability to be proactive and get ahead of an issue before it happens or even occurs. For instance, an e-commerce company might offer live chat on its checkout page to answer frequently asked questions before a customer abandons their cart.
Live chat also enables a business to offer support around the clock. While your agents are busy being humans, chatbots can handle customer requests for them.
Assistance par téléphone
Une conversation téléphonique reste un moyen efficace de résoudre le problème d'un client, en particulier pour les questions pour lesquelles les enjeux sont élevés. C'est parfois encore plus efficace que les longues conversations par e-mail ou le chat en temps réel, grâce au contact humain présent dans un appel téléphonique, comme entendre une voix.
Grâce à des fonctionnalités telles que l'enregistrement des appels, le routage interne intelligent, l'accès à l'historique complet du client et la création automatique de tickets, le logiciel de centre d'appels permet aux représentants du service client d'être plus stratégiques.
E-mail
L'e-mail est le gagne-pain de l'assistance client. Tout comme le téléphone, il est utilisé depuis longtemps et reste un canal privilégié par les générations plus âgées.
L'e-mail sert souvent de forme d'assistance interne et externe. Une équipe des ressources humaines, de la paie ou de l'informatique, par exemple, pourrait utiliser l'e-mail pour répondre aux questions des employés à temps plein et à temps partiel.
Base de connaissances
With a knowledge base, community forum, or customer portal, support teams can empower customers to self-serve. In fact, 81% of customers would rather figure out an issue on their own.
Mais cela n'est possible que si les équipes d'assistance disposent d'outils facilitant la création et l'entretien des connaissances. Par exemple, l'IA peut signaler lorsque le contenu est obsolète ou lorsqu'un nouveau sujet d'article est nécessaire. Il peut également utiliser les connaissances collectives des agents pour automatiser les résolutions pour les billets simples.
Applications de messagerie
La prolifération des canaux de messagerie, comme WhatsApp, Apple Business Chat et Facebook Messager, a changé la façon dont les personnes communiquent entre elles.
That convenience factor has made its way to customer service as well. Customer service software apps allow customers to get in touch over the same messaging channels they use to communicate with friends and family.
L'avantage de l'utilisation d'un logiciel de service client pour communiquer sur les canaux de messagerie est la possibilité de conserver les conversations et le contexte dans un lieu centralisé. Si la résolution du problème d'un client commence par un message puis nécessite un appel téléphonique de suivi, toutes ces informations sont enregistrées dans le même ticket d'assistance.
Best practices for customer service apps & software
Customer service software promises exciting capabilities, but those promises break if the people using that software don't follow best practices. Here are four best practices that'll help your team exceed expectations:
Meet customers on their own terms
Customers don't care about terms like omnichannel. But companies should.
The experience that omnichannel customer service can provide is a massive differentiator and a key tool for cultivating loyalty. What omnichannel means is offering all the channels that customers expect for communicating with your company — email, chat, phone, text, and social media.
This creates trust and comfort for the customer because they can communicate with you in the same way they already talk to friends and family.
Make personalization possible
The information you need to figure out what your customers want from your products and services is probably available to you, and possibly already pouring in. This data can feed engagement strategies with insights on when, where, and how to engage customers.
And it works: Zendesk findings show companies that leverage the most data see 36 percent faster resolutions and a 79 percent reduction in wait time while solving four times the customer requests.
If you don't know where to start, a good first step is to use an open and modern CRM platform so you can link data sources to create and offer personalized service based on real customer preferences.
Invest in effective collaboration
There's a reason that in this list of companies with the worst customer service ratings, giant telecoms, banks, and airlines dominate the top ranks. Giant companies are complex, and it's a lot harder to find the right person to talk to when there are thousands of employees—for both agents and customers.
This is what makes it so important to give your teams easy ways to reach out to other departments, so you can streamline communication and internal workflows, giving agents the context they need, when they need it to provide more responsive support.
Current trends for customer service platforms
When you're thinking about an investment in a customer service platform, whatever tool you choose will evolve and change. Don't worry, that's a good thing. You want tools that can evolve as your business, and the world, change. But that also means you need to keep an eye on how the world of customer service management is changing.
Here are a few of the top customer service trends you'll want to keep in mind as you use or consider using, new software.
Data-driven personalization as the price of entry
The idea of tapping into data from across the organization to facilitate personalized, contextually relevant customer service is not particularly new. What is new is the greater accessibility of tools that enable data-driven personalization and a broader realization among executives of the value of customer data.
In fact, the most recent KPMG CIO Survey showed that when it comes to attracting customers, 91 percent of CIOs know that how they handle and use customer data is becoming equally important as a company's products and services offerings.
In the past, a truly data-driven customer experience was too resource-intensive for most companies. But with more powerful, affordable software, tapping into data to serve your customers better isn't so much a differentiator. It's more like the price of entry.
Customer service teams are focusing on efficiency
Well before COVID-19, hiring managers had stiff competition for quality agents. So much so that most teams were expecting more growth in customer requests than in headcount. The pandemic poured lighter fluid on that fire, creating even more resource constraints. The result has been a greater focus on using the right culture, solutions, and data visibility to improve efficiency.
Still, only around half of customer service agents say they have adequate tools for measuring and reporting on the metrics that are most important to their support team. And almost 40% are neutral.
This gap presents an opportunity for CIOs and other IT leaders to again prioritize customer experience—the sum of every touchpoint each customer encounters with the business—before approving another redundant or risky point product.
Blending customer service and customer success
Traditional customer service is reactive. Customers have a problem, they reach out to an organization, and they're routed to an agent or resource that can help them solve their issue. But the world's fastest-growing companies are delivering customer service more proactively.
Rather than reacting, these organizations tailor their service to ensure their customers reach their goals.
Some enterprises are even building dedicated customer success teams as a complement(or replacement) for their service teams. While traditional customer service is far from obsolete, it's clear that executives, managers, and agents are rethinking how they define customer service.
Les 15 principaux outils logiciels de service client pour améliorer l'expérience client
Zendesk




Sprout Social




Hootsuite




MailChimp




Apple Business Chat




Facebook




SurveyMonkey




Slack



Recurly




NICE inContact CXone




EZOfficeInventory




Boss Solutions Suite




JIRA Service Desk




LiveAgent




Freshdesk



Les clients s'attendent à communiquer avec les entreprises via leurs canaux préférés. Or, ces derniers représentent désormais un nombre considérable de technologies devant être connectées à votre pile technologique et nécessitant du personnel qualifié. Voici quelques outils de service client qui aident une entreprise à fournir un excellent service à la clientèle.
Le logiciel de service client de Zendesk permet aux entreprises de développer des expériences clients simples. Les conversations sont fluides, homogènes et cohérentes sur les canaux. Le résultat ? Une productivité et une satisfaction accrues.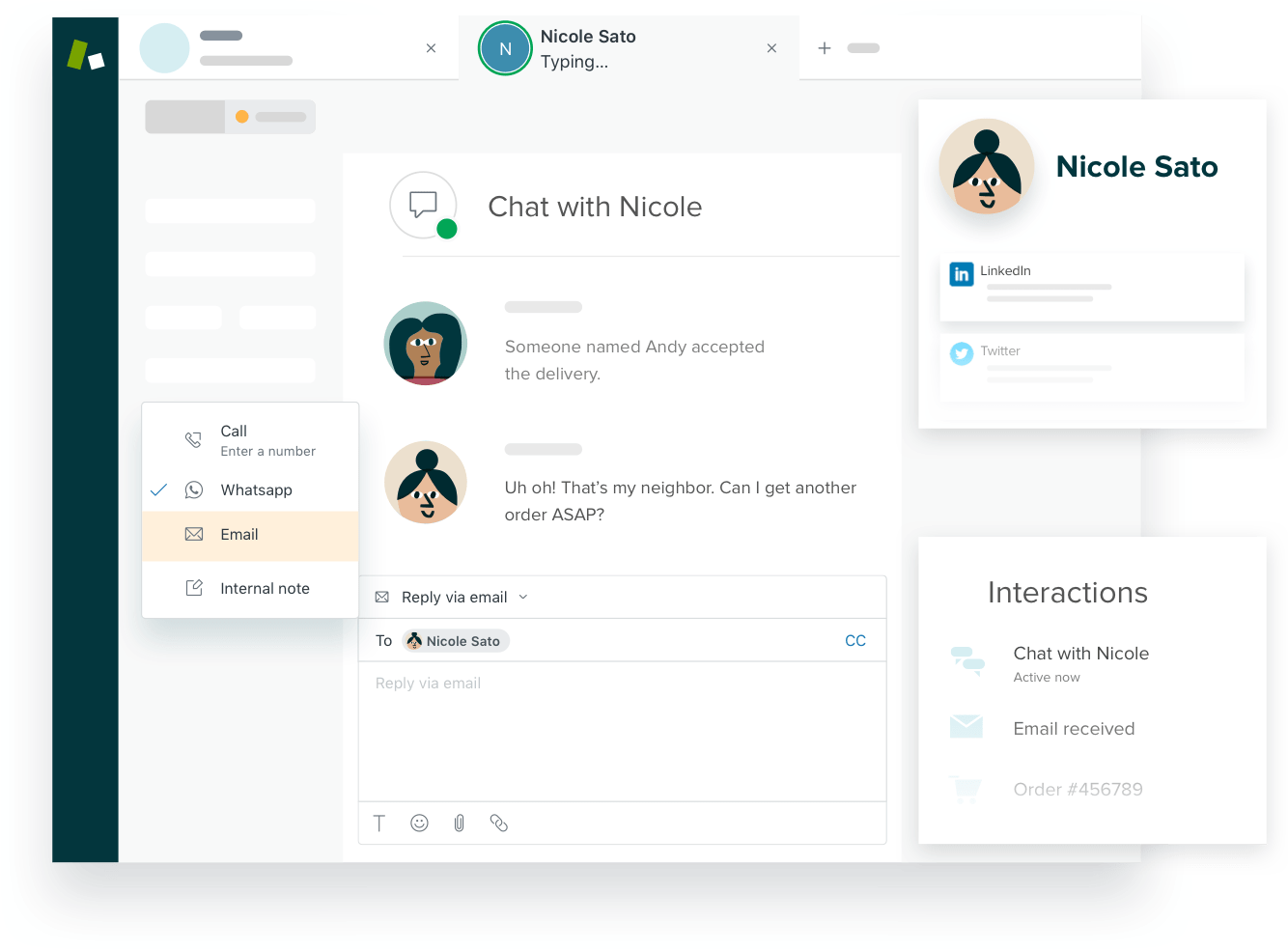 L'espace de travail d'agent de Zendesk Suite fournit aux agents tous les outils dont ils ont besoin pour collaborer les uns avec les autres, ainsi qu'avec les autres équipes, et apporte des réponses rapides et personnalisées sur n'importe quel canal, à partir d'une interface unique et unifiée.
Le logiciel de service client de Zendesk est rapide à mettre en œuvre, simple d'utilisation et s'adapte aux besoins des entreprises de toute taille :
Zendesk pour les grandes entreprises
Les grandes entreprises ont besoin du juste équilibre entre simplicité et sophistication pour que les équipes et la technologie soient toujours axées sur ce qui compte le plus : leurs clients. Zendesk fournit à une entreprise les outils nécessaires pour répondre aux besoins d'une clientèle diversifiée sur les canaux de son choix tout en garantissant une expérience personnalisée.
Si vous avez une grande entreprise dispersée, vous devez également gérer de nombreux agents et leurs jeux de compétences uniques. Zendesk vous fournit la souplesse dont vous avez besoin pour personnaliser votre solution d'assistance avec des outils comme les capacités de workflow avancées et l'automatisation et le self-service qui utilisent l'intelligence artificielle... Les tickets sont affectés aux bons agents et les agents ont les connaissances nécessaires pour résoudre n'importe quel problème.
Zendesk also seamlessly integrates with other tools, data, and communications across all departments to ensure smooth customer interactions and fewer miscommunications within complex operations.
En savoir plus sur le logiciel de service client pour les grandes entreprises de Zendesk.
Zendesk pour les PME
Zendesk gives small and mighty teams the gift of efficiency. It's powerful yet easy-to-use and designed to help your customer service team work better together, making the most of their time and energy. Plus, it's easy to customize with the tools you already use so you can build on what you have.
Grâce à l'espace de travail centralisé de Zendesk, vous disposerez de tous les outils nécessaires pour suivre les questions des clients et leur fournir les informations dont ils ont besoin, quand ils en ont besoin. Et en utilisant les automatisations de Zendesk et les espaces de travail dynamiques, fondés sur l'IA, votre équipe pourra travailler plus intelligemment. Elle pourra donc échanger plus rapidement avec plus de clients.
En savoir plus sur le logiciel de service client pour les PME de Zendesk.
Zendesk pour les start-ups
Quand vous fournissez à vos clients l'expérience qu'ils attendent, vous gagnez leur confiance et leur fidélité. La solution d'assistance omnicanal permet aux start-ups d'être là où se trouvent leurs clients. Intégrez des canaux d'assistance comme l'e-mail, le chat et le téléphone à un seul et même endroit, et gagnez du temps en proposant des options de self-service.
The best part? Zendesk for Startups provides a free 6-month credit—including access to tailored resources and a growing network and community of customer experience leaders.
En savoir plus sur le logiciel de service client pour les start-ups de Zendesk.
Features of Zendesk's customer service software
Routage des tickets
logiciel de live chat
Native integrations
Base de connaissances
API
Tracking and reporting
Self-service portal
Forums de la communauté
Automation
With the ever-growing adoption of social media for communication, customer service software that helps support teams deliver cohesive social support experiences is immensely valuable. Through its combination of sales, support, marketing, social media monitoring, and engagement features, Sprout Social helps facilitate conversations across all social media channels.
And by connecting social media teams and support agents, Sprout Social eliminates disconnected or siloed communication and workflows.
Fonctionnalités
Rapports et analyses
Automation
Tracking and reporting
Customer segmentation
Social media monitoring/management
Post scheduling
En savoir plus sur l'intégration de Zendesk à Sprout Social.
Hootsuite helps teams engage with customers and schedule content across multiple social networks from one secure web-based dashboard. Its wide range of features and a large library of integrations make Hootsuite a solid overall tool for service operations.
Combined with Zendesk through a native integration, you can use Hootsuite to create, update, review, and edit tickets from social media. With Hootsuite and Zendesk, you remove the silos that often pop up between social and support teams. The result is better, more seamless customer interactions across all channels.
Fonctionnalités
Automation
Tracking and reporting
Customer segmentation
Social media monitoring/management
Post scheduling
En savoir plus sur l'application Zendesk pour Hootsuite.
MailChimp enables businesses to create, send, and track email newsletters, signup forms, and event invitations. Teams can personalize emails with targeted customer segments when integrating a customer support system like Zendesk Support.
But even more than that, for a smaller business, MailChimp can double as an all-in-one marketing platform. Though you'll need one of their more expensive plans, you can use MailChimp to create landing pages and ad campaigns, track performance, and automate emails.
Fonctionnalités
Tracking and reporting
Contact management
Landing page and email design tools
Automation
Social media monitoring
Live Chat
En savoir plus sur la connexion entre Zendesk Support et Mailchimp.
Avec Apple Business Chat, les clients peuvent obtenir des réponses à leurs questions, planifier des rendez-vous, résoudre des problèmes et effectuer des achats, le tout sans quitter la messagerie.
Pour garantir une expérience conversationnelle cohérente et transparente sur des canaux de messagerie personnalisés comme Apple Business Chat, une entreprise aura besoin d'un partenaire de messagerie, comme Sunshine Conversations.
Fonctionnalités
Native integrations
Booking
Payments
Image/audio/video file support
API
En savoir plus sur l'intégration d'Apple Business Chat à Zendesk Support.
6. Facebook
Facebook Messenger et WhatsApp permettent aux clients d'obtenir une assistance de messagerie rapide et pratique sur les téléphones dans le monde entier. Avec une plateforme CRM comme Sunshine Conversations, les clients peuvent tout faire, que ce soit modifier une réservation d'hôtel, payer une facture ou trouver la couleur de rouge à lèvres parfaite, depuis le thread de la messagerie.
Fonctionnalités
Native integrations
Booking
Payments
Image/audio/video file support
API
En savoir plus sur l'utilisation de canaux de messagerie populaires comme WhatsApp et Facebook Messenger avec Zendesk.
SurveyMonkey is a customer service tool that provides businesses with templates for a plethora of customer surveys to glean insight into things like product feedback and CSAT. And with SurveyMonkey's extensive library of integrations, you can easily work this tool into your existing workflow.
In other words, SurveyMonkey enables you to gather feedback from customers or employees with minimal disruption to you and them.
Fonctionnalités
Live results tracking
Polling
Tracking and reporting
Image/audio/video file support
Email distribution
Native integrations
API
En savoir plus sur l'intégration de l'application SurveyMonkey à Zendesk.
Slack permet aux clients internes d'obtenir une assistance des services informatiques ou des ressources humaines de manière transparente, à partir du même canal que celui qu'ils utilisent pour communiquer avec leurs collègues. Lorsque la solution est combinée avec un assistant IA, comme Answer Bot de Zendesk, les employés peuvent s'auto-assister sur Slack à grande échelle.
Lorsqu'il est intégré à une solution logicielle de service client, Slack permet également aux agents de mieux communiquer les uns avec les autres lors de la résolution des tickets, pour une collaboration plus fluide et plus rapide.
Fonctionnalités
Live Chat
Visioconférence
Messagerie
Native integrations
API
Forums de la communauté
Surveys
En savoir plus sur Slack pour Zendesk Support.
Recurly fournit une plate-forme polyvalente de gestion de la facturation des abonnements pour gérer l'intégralité du cycle de vie des abonnés. Lorsqu'il est intégré à un système d'assistance comme Zendesk Support, les agents n'auront plus besoin de se rendre sur des onglets ou des systèmes distincts pour consulter ou modifier les détails de l'abonnement des clients.
Plus, Recurly is powerful in its own right, enabling your team to easily manage subscriptions, offer discount codes, set up recurring payments, and more.
Fonctionnalités
Native integrations
API
Self-service portal
Automation
Subscription management
Multiple payment options
En savoir plus sur Recurly pour Zendesk.
NICE inContact CXone Agent consolidates customer context and contact center controls into a single interface for more efficient agents and better customer experiences. What really sets NICE inContact apart is its breadth of features for more sophisticated, larger service operations.
In addition to voice solutions, ticketing routing, and other standard customer service capabilities, NICE also provides valuable workforce and quality management tools that enable your service managers to continuously improve their team's performance.
Fonctionnalités
Routage des tickets
Workforce management
Customer surveys
logiciel de live chat
Native integrations
Base de connaissances
API
Tracking and reporting
Self-service portal
Automation
En savoir plus sur NICE inContact CXone Agent pour Zendesk.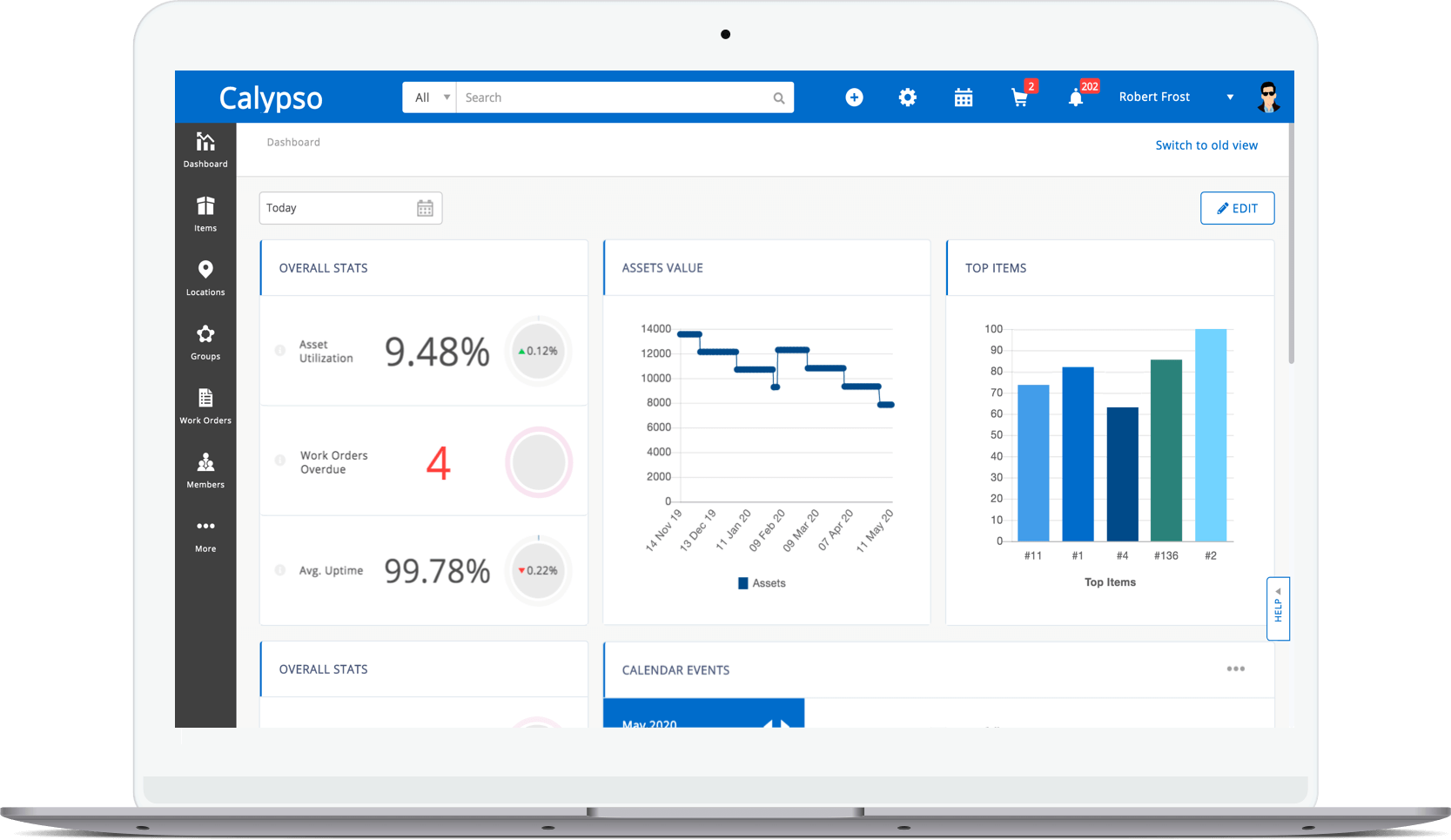 EZOfficeInventory permet aux entreprises du monde entier de gérer les tickets et les incidents concernant l'équipement, les documents et les stocks.
Les utilisations typiques peuvent inclure un employé qui envoie un ticket à propos de son ordinateur cassé ou une personne sur le terrain qui a besoin d'aide pour utiliser une perceuse : EZOfficeInventory gère les détails relatifs aux documents pendant qu'un outil d'assistance comme Zendesk gère le workflow des tickets.
Fonctionnalités
Native integrations
Base de connaissances
Asset tracking
Barcode scanning
Maintenance scheduling
API
Tracking and reporting
En savoir plus sur l'intégration de l'application EZOfficeInventory à Zendesk.
Boss Solutions Suite provides businesses with a fully integrated ITIL-based help desk software and IT asset management solution available on-premise or on the cloud. Their customers include public, education, and healthcare institutions.
In addition to ticket routing, knowledge management, and self-service, Boss Solutions provides asset, incident, and change management capabilities.
Fonctionnalités
Routage des tickets
Native integrations
Base de connaissances
API
Tracking and reporting
Self-service portal
Automation
Jira Service Management empowers IT teams with a modern service desk that has everything they need out-of-the-box, including ITIL-certified processes. Jira is developed by Atlassian and it bills itself as the solution to silos between developers, operations, and IT.
All that said, non-IT customer service professionals may find that Jira's feature set is excessive for their needs. If you're not sure, go ahead and take JIRA for a spin; they offer 7-day free trials and they have a free plan that can give you a feel for the software.
Fonctionnalités
Routage des tickets
logiciel de live chat
Native integrations
Base de connaissances
API
Tracking and reporting
Self-service portal
Automation
Learn more about Jira for Zendesk.
If your service team spends a lot of time serving customers with live chat, LiveAgent is definitely a tool to consider. LiveAgent improves live chat service delivery with features like real-time typing view, website monitoring for chat engagement, and proactive chat invitations based on the active agent availability.
LiveAgent is an especially solid solution for smaller service teams that use WordPress. And its large library of native integrations allows your team to seamlessly work it into their existing workflows. Plus it has native integrations for many of the most popular apps that support teams use.
Fonctionnalités
Routage des tickets
logiciel de live chat
Native integrations
Base de connaissances
API
Tracking and reporting
Self-service portal
Forums de la communauté
Automation
Freshdesk helps customer service teams streamline collaboration and automation with its intuitive interface and affordable price. In their more expensive plans, Freskdesh offers all the key features you'd expect in customer support management software including team dashboards, social signals, ticket routing, and chatbots.
Another nice perk is that through Freshworks Academy, you can offload some of the burden of training your agents on the system.
Fonctionnalités
Routage des tickets
logiciel de live chat
Native integrations
Base de connaissances
API
Tracking and reporting
Self-service portal
Forums de la communauté
Automation
A summary of the top customer service software solutions
Here's how our top 15 picks for customer service software stack up against one another at a glance:
| Logiciel d'assistance clientèle | Conversation Routing | Logiciel de live chat | Native Integrations | Ticket Routing | API |
| --- | --- | --- | --- | --- | --- |
| Zendesk | ✓ | ✓ | ✓ | ✓ | ✓ |
| Sprout Social | ✓ | X | ✓ | X | ✓ |
| Hootsuite | ✓ | X | ✓ | X | ✓ |
| MailChimp | X | X | ✓ | X | ✓ |
| Apple Business Chat | X | ✓ | ✓ | X | ✓ |
| Facebook | X | ✓ | ✓ | X | ✓ |
| SurveyMonkey | X | X | ✓ | X | ✓ |
| Slack | X | ✓ | ✓ | X | ✓ |
| Recurly | X | X | ✓ | X | ✓ |
| NICE inContact CXone | ✓ | ✓ | ✓ | ✓ | ✓ |
| EZOffice Inventory | X | X | ✓ | ✓ | ✓ |
| Boss Solutions Suite | ✓ | X | X | ✓ | ✓ |
| Jira Service Management | ✓ | X | ✓ | ✓ | ✓ |
| LiveAgent | ✓ | ✓ | ✓ | ✓ | ✓ |
| Freshdesk | ✓ | ✓ | ✓ | ✓ | ✓ |
Comment choisir le meilleur logiciel de gestion du service client pour votre entreprise
Your customer service software is key to your support team's day-to-day operations. So finding the right mix of tools is a big deal.
To help you think about what tools might be the best for your team, read through the six questions listed below:
Is customer service software easy to implement?
Customer service software's ease of implementation depends on many individual factors. How easy one system is to implement versus another depends on your desired integrations, workflows, customization needs, and other factors.
That said, web-based customer service tools are generally easier to implement than desktop-based software. Still, in the vast majority of cases, businesses should be able to start servicing customers with software that fits into their existing infrastructure within a few days.
Does the customer service app provide agents with collaboration tools?
The best customer service software app equips agents with collaboration tools and streamlines workflows so they can work better together and solve customer questions efficiently.
Par exemple, avec le routage en fonction des compétences, les agents reçoivent des questions basées sur l'expertise, telles que la partie du produit ou la langue. Et lorsque le logiciel de service client s'intègre à d'autres outils internes, comme la messagerie électronique et Slack, les agents peuvent partager les meilleures pratiques entre les services.
Will customer service software allow you to seamlessly scale?
Un service client doit se développer en même temps que son entreprise. Les logiciels d'assistance doivent comporter des options permettant de répondre aux besoins d'une entreprise en pleine croissance, comme la possibilité d'ajouter ou de supprimer des canaux de manière transparente et d'intégrer de nouveaux systèmes et logiciels.
Does customer service software come with analytics and reporting?
Les analyses du service client aident une entreprise à comprendre si ses objectifs sont atteints et si ses stratégies fonctionnent. L'établissement de rapports permet à chaque partie prenante nécessaire de voir ce dont elle a besoin.
Is customer service software customizable to your business' needs?
Le prestataire de service client idéal est un système pouvant être configuré pour prendre en charge n'importe quel workflow et suffisamment puissant pour traiter les cas les plus difficiles, tout en étant assez souple pour évoluer à n'importe quel rythme. Il doit également être fourni avec des applications et des intégrations pour permettre aux agents de personnaliser leur espace de travail.
Try Zendesk's customer service software for free
Seamless communication, personalized to your customers and centralized for your agents, doesn't have to be a distant dream for you and your team. Zendesk's customer service system combines it all—integrated customer data, knowledge base management, ticketing, live chat, and much more, to elevate your customer reach and bridge the gaps within your business.
Exploitez davantage de connaissances
Poursuivez votre exploration de l'univers des logiciels de service client et de l'assistance client à l'échelle mondiale.