Digité provides AI-driven project delivery management solutions based on Agile, Kanban & SAFe® – Scaled Agile Framework. Ditto is one of several AI/ ML based products that Digité has developed.
Ditto is an AI powered similarity engine. It uses various AI/ ML techniques to find similar tickets based on tickets that have been resolved historically. Users can search for similar tickets based on ticket subject or description. Ditto harnesses the power of natural language processing to perform semantic encoding and then uses this to identify tickets of similar meaning. This helps users apply solutions created from historical tickets to new tickets or problems. This helps users leverage collective experience to come to solutions.
We provide contextually similar ticket search feature for up to 30000 recent tickets.
For demo or queries Contact us at dittosupport@digite.com
To know more about us visit us at digite.com.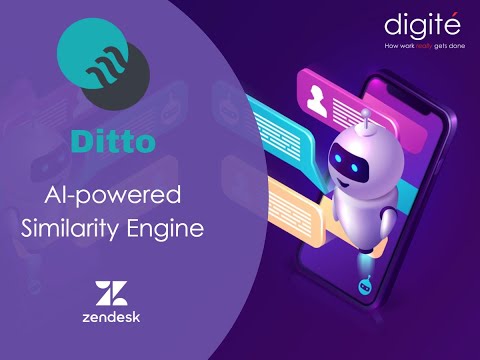 What's new
Ditto: Capture user feedback on search similarity
Overview: Users can provide feedback ratings and comments over respective search similarity result. These feedbacks are further used in Training models to provide better results.
Impact: This will open two way channel of communication between the user and Ditto.
FAQ
Q: How is Ditto different from a keyword search?
A: Ditto builds a personalized model for your company which means that even if a few words are different, it understands you want to see tickets which mean the same thing
Q. How does Ditto help its users?
A: Ditto automatically starts searching for similar tickets when you type in a description. This helps agents identify how others addressed similar tickets. This reduces their turnaround time for tickets
Q: Does Ditto migrate data?
A: Yes. Ditto is training deep learning models and requires data migration onto cloud servers. If you are specifically looking to use DItto but data migration is a concern please contact us at dittosupport@digite.com
Q: What is on Ditto's roadmap?
A: Upcoming release features including sentiment analysis, operational analytics etc.
Q: How are you going to handle data deletion?
A: We delete ticket data once the user uninstalls Ditto.We are also implementing an option for users to delete data after modelling is complete.
Q: I like Ditto's solution but I want it customized to my needs?
A: We would love to hear from you. Drop us a mail at dittosupport@digite.com