Shrink queue length and first response time. Resolve up to 90% of customer chat conversations with AI customer service chatbots.
JennyBot is an out-of-the-box solution that helps you leverage the power of AI chatbots without the hassle of developer roadmaps. The advanced NLP/NLU technology works for you behind a simple chatbot management interface, complete with analytics to help you track how many more customers you serve each minute. With JennyBot, you can deploy an effective chatbot in a matter of weeks, not months.
Chatbots built with JennyBot deflect repetitive customer interactions in your Zendesk live chat service so your customer service team can focus on helping customers with complex issues that require emotional intelligence and life experience.
How It Works
Your chatbot is your front line support. It answers simple questions and performs processes you want completed automatically. When there's a question it can't answer, it transfers the conversation to a human agent.
If there's no human agent available, it can open a ticket in your Zendesk support inbox to be addressed when there is an agent available.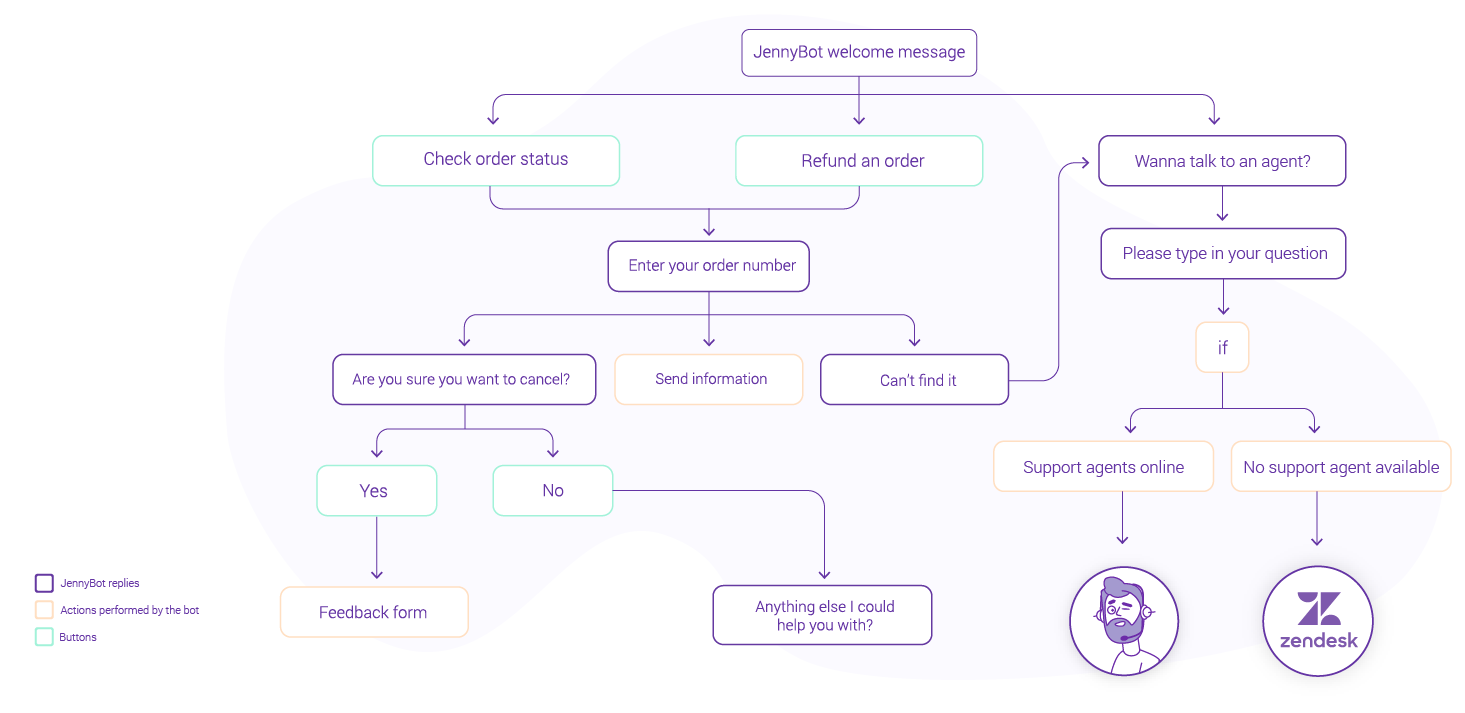 Prefer video? Watch JennyBot and Zendesk work in action.
Features
30+ languages supported – chatbots that speak your language

GDPR/CCPA Compliant – your customer's data is safe

NLP & NLU – answers based on intent

Clustering – use existing chat data to accelerate your chatbot project

Learning Suggestions – constantly learning to improve your service

OpenAPI – connect multiple services to your chatbot

Analytics – measure your chatbot's success
Transforming Your Customer Experience
Faster Service – lower first response and first response resolution times, as your chatbot can handle multiple requests simultaneously and works 24/7.

Fewer Repetitive Issues – with up to 90% deflection, your chatbot eliminates repetitive, routine issues and human agents can concentrate on giving amazing service to customers with serious pain points.

Saves Time and Money – JennyBot users have saved up to 330 hours of labour per month with chatbot automation and deflection.
How much will a chatbot save you? Calculate your chatbot return on investment.

"Our GetJenny chatbot, Helmi, complements our customer service department. The quality of our telephone customer service has changed; common issues are reduced, while calls requiring human expertise are dominating."

Tiina Kurki, Senior Vice-President, Pension Services and IT at Varma
Check out our customer case studies on the GetJenny website.