CRM and Deals for Zendesk Support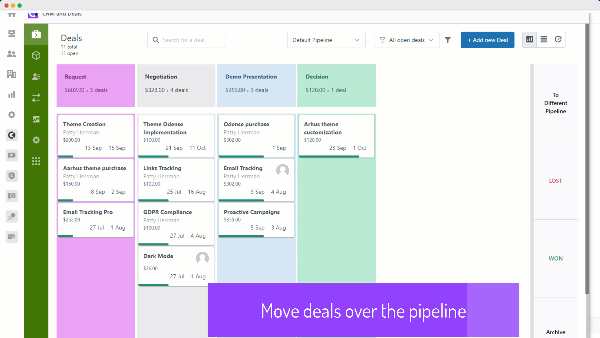 Easily capture sales opportunities that happen during a support process. CRM for Zendesk is designed specifically to work with Zendesk Support and enable you to build and manage sales pipelines. See what you can achieve with CRM and Deals:
Fetch sales opportunities directly from Zendesk Support tickets
Create custom sales pipelines with multiple stages
Set automations to move deals without manual actions
Create custom deal forms to collect all the necessary records
Link deals with specific products
Assign different statuses to CRM users
Forecast sales over specific time periods
Measure sales team performance
Keep track of all events (actions)
Capture deals in a snap
As you're working on a ticket and the sales opportunity shows itself, there's no time for shuffling tabs. Click the Create deal button right in the ticket view to transfer the prospect's name and company directly to CRM and Deals.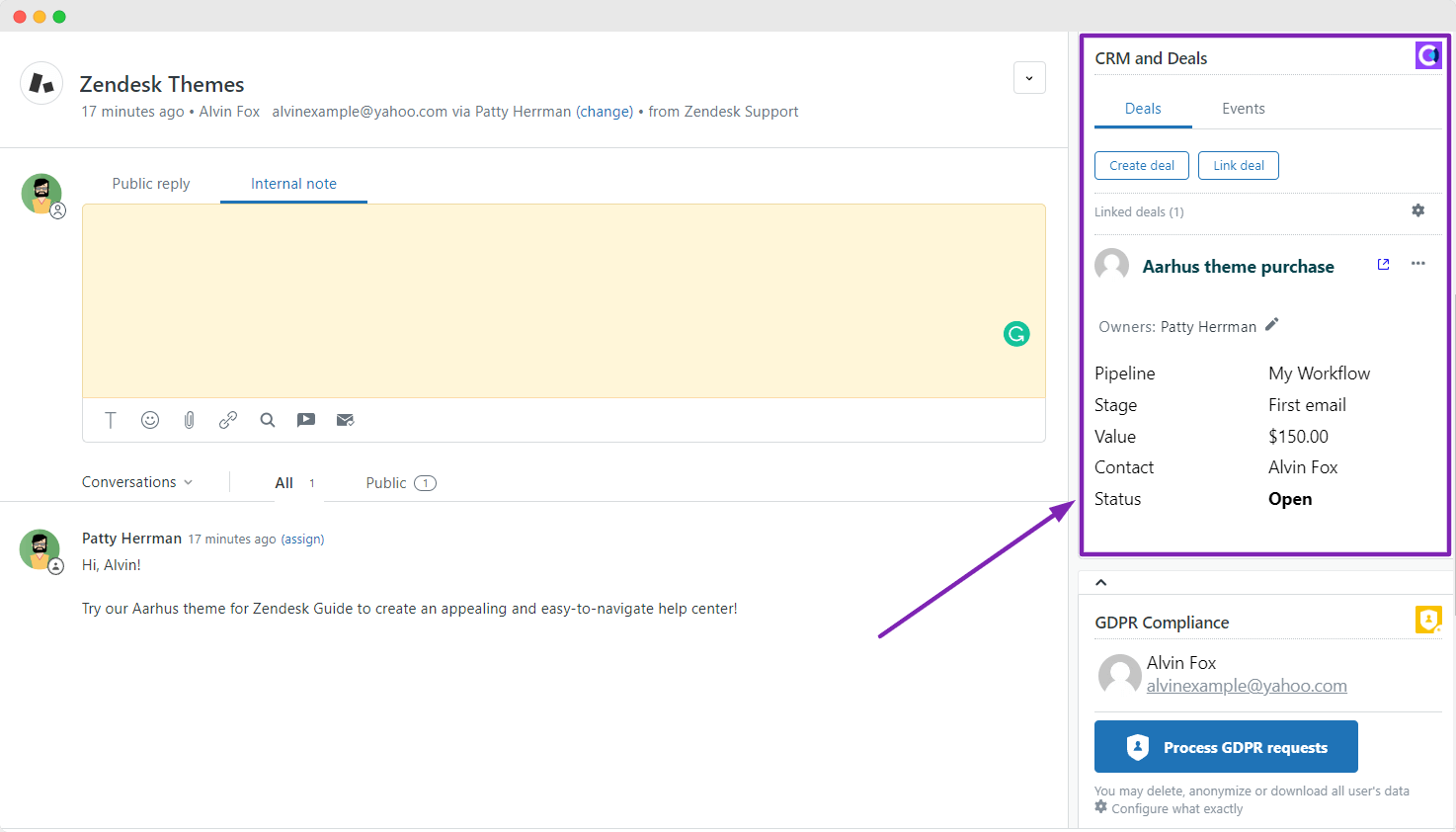 Build your own sales process
Customize pipelines to fit your unique sales process. Add as many sales stages to a pipeline and name them as you find necessary. You can also specify the probability of closing a deal for each stage or how long deals they stay idle in each stage before rotting (expiring).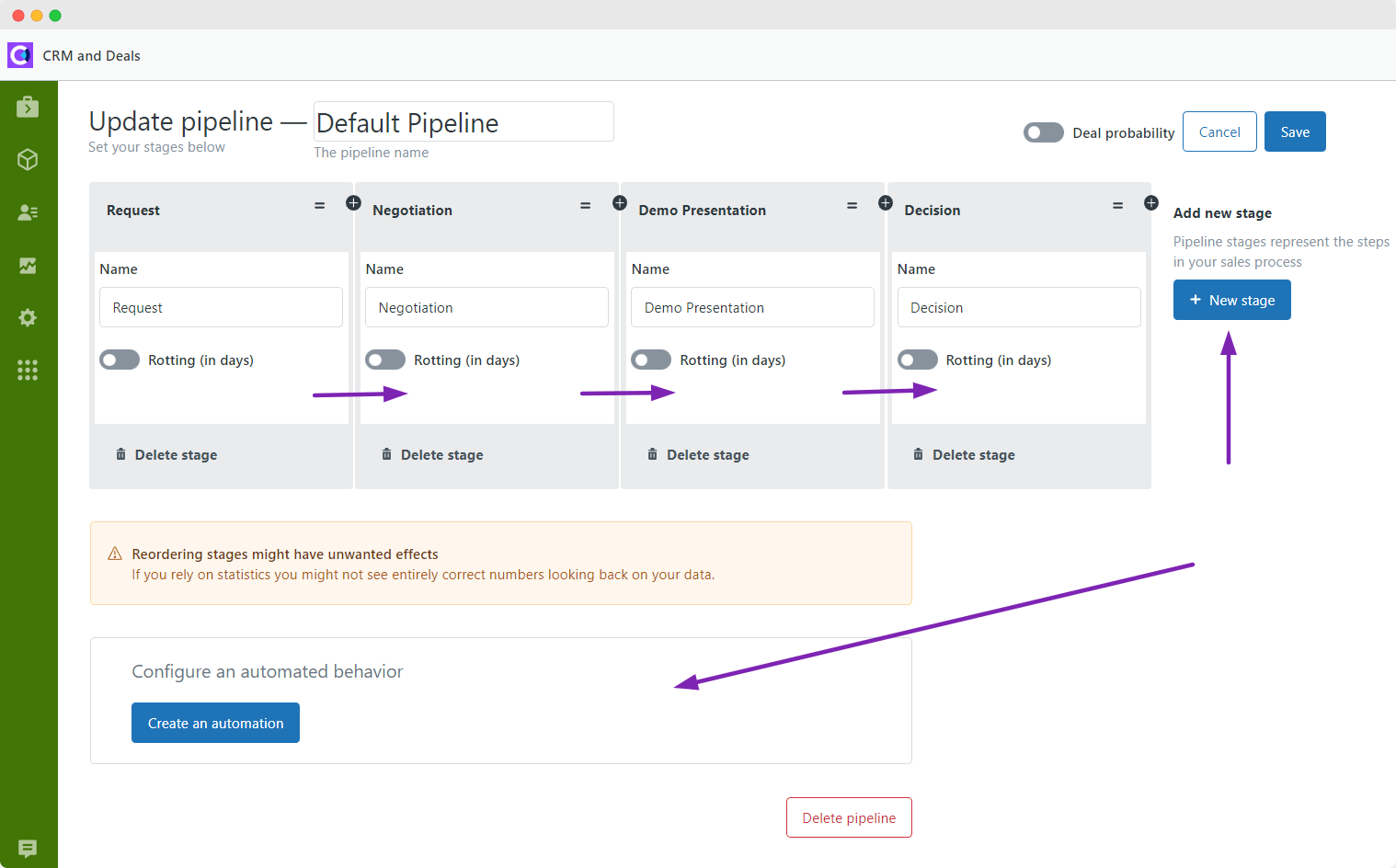 Configure automated behaviour
Besides, you can configure an automated behavior in case your deals got stuck on a specific stage. So, that they can be moved to the lost status periodically.
Maintain control of each sales deal
Pipeline management is easier than ever with a simple drag-and-drop interface. And with the filtering option, you can quickly scan through the pipeline to understand where you're standing with each deal. Use standard app filters or create custom ones. And here you can go as far as possible - filter your deals by assignee, status, or even lost reasons.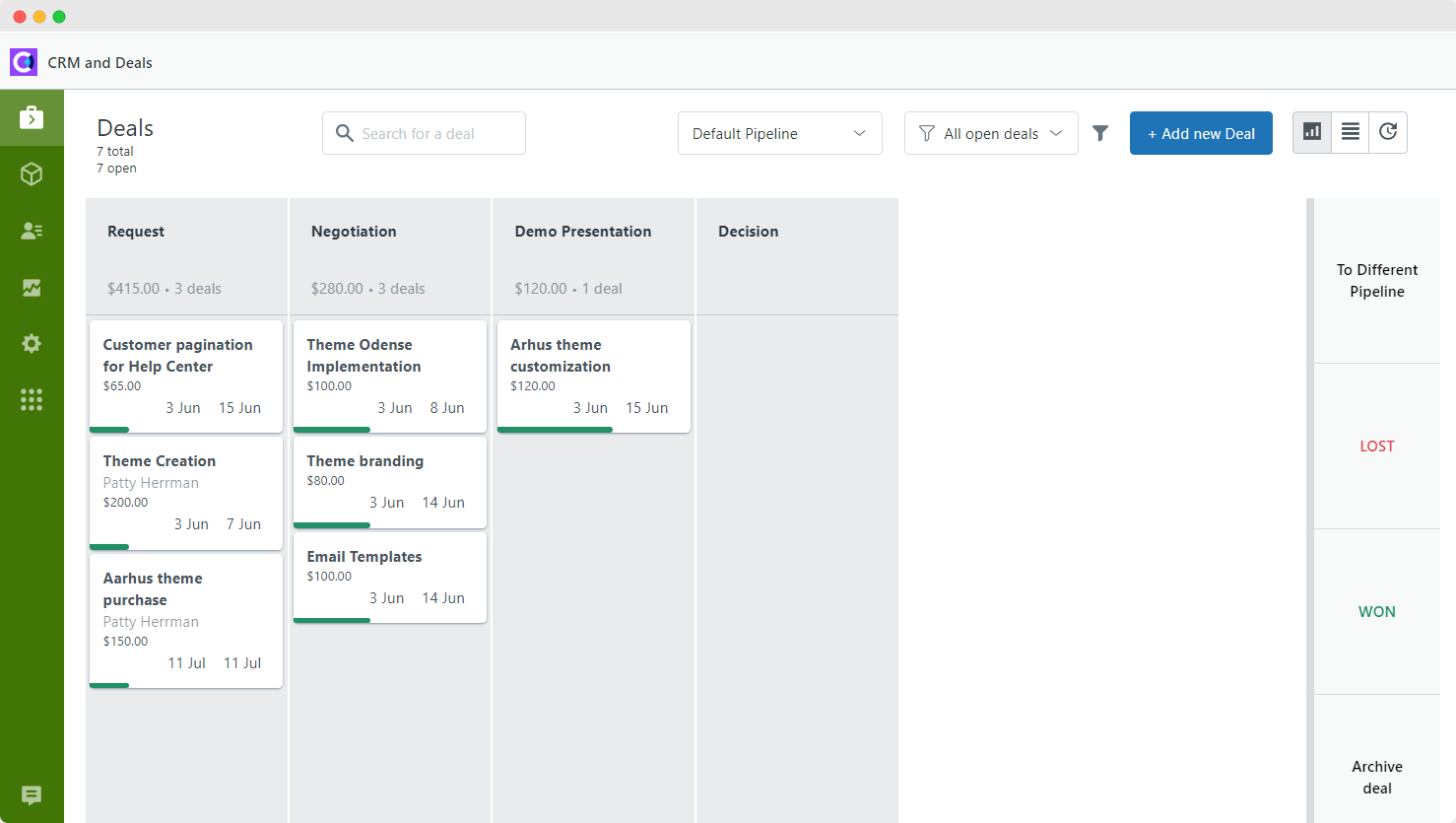 Gather all the necessary information
Add fields to deal forms that will help you to add a specific information abot the deal. The form you will use to create a deal already has a few default fields which help capture the basic information. You can add as many fields as you need. Though, we recommend keeping it simple.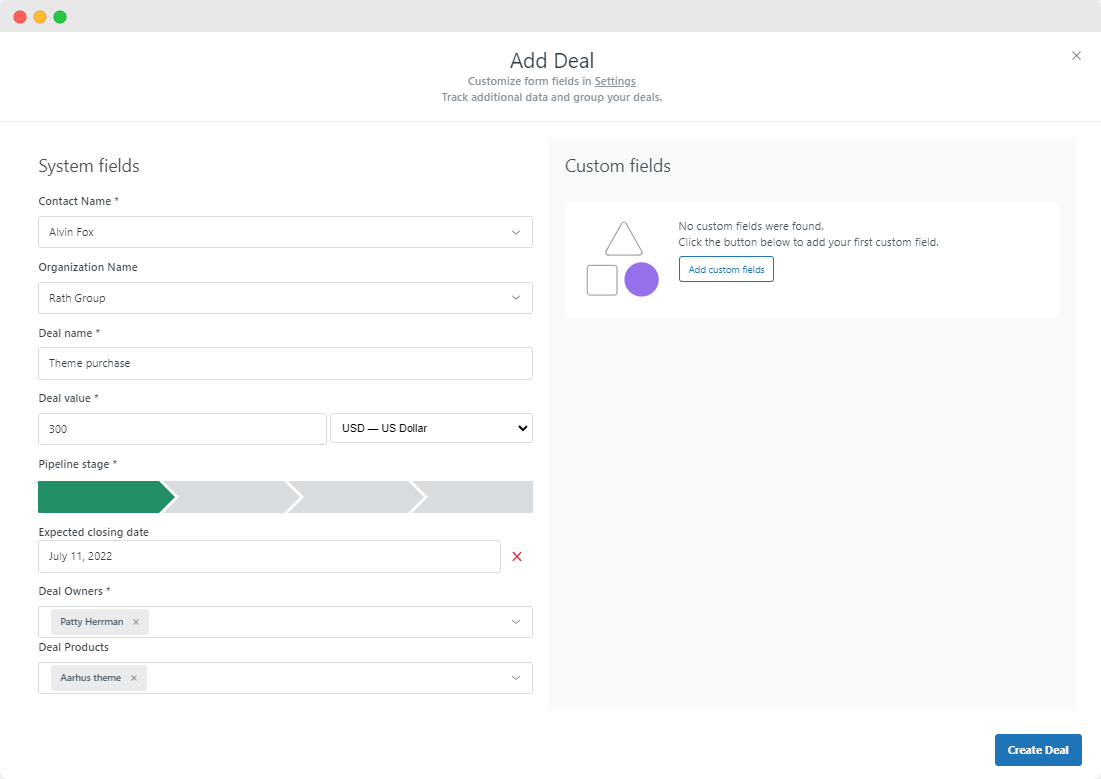 Link deals with products
Create your company's products and services to link them to each deal. Thus, you will get more insight into the value of each deal and a clear understanding of how your sales work.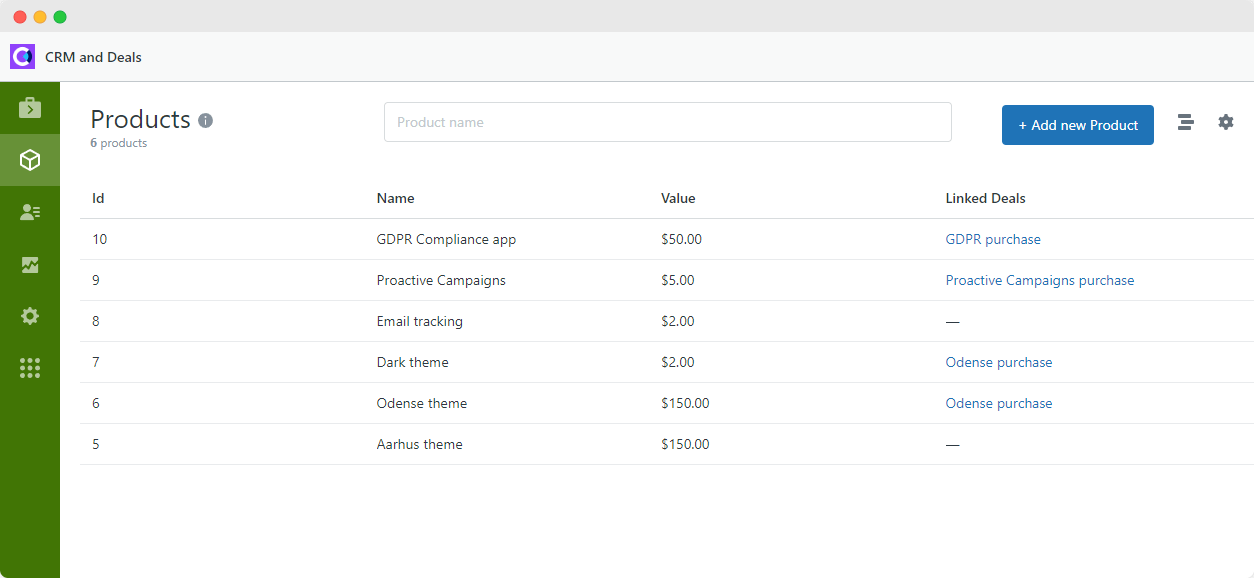 Build better relationships using user statuses
We bet you've already gathered thousands of contacts that you'll be using in your sales process. 'User status' will give you a hand while trying to distinguish where each of them belongs in the customer lifecycle. There are 4 possible statuses to add: contact, lead, prospect, and customer. Distinguish between the users you have in your Zendesk and approach each in a personalized way.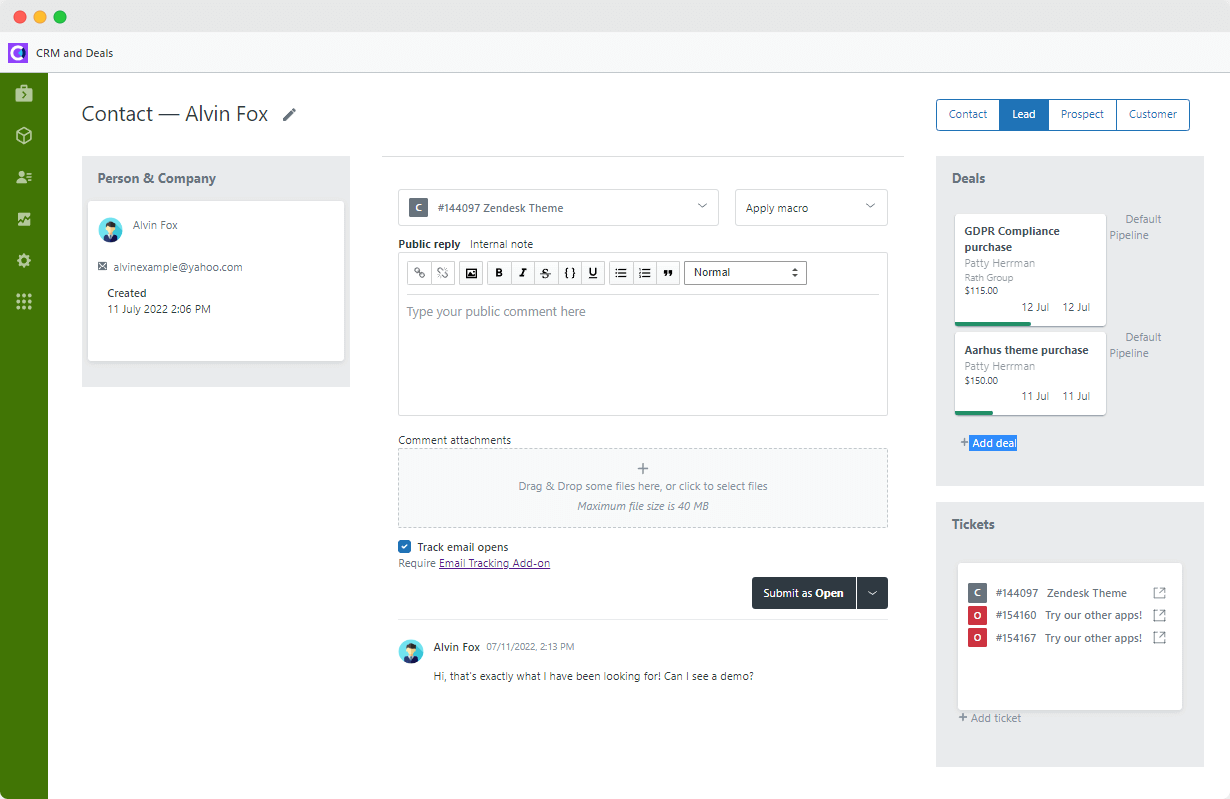 Get sales forecasts
The default deal form has one handy field called the Expected closing date. With its help, you can plan your sales and get an overview of your performance. Switch to a Forecast mode to see deals you're expecting to close each month.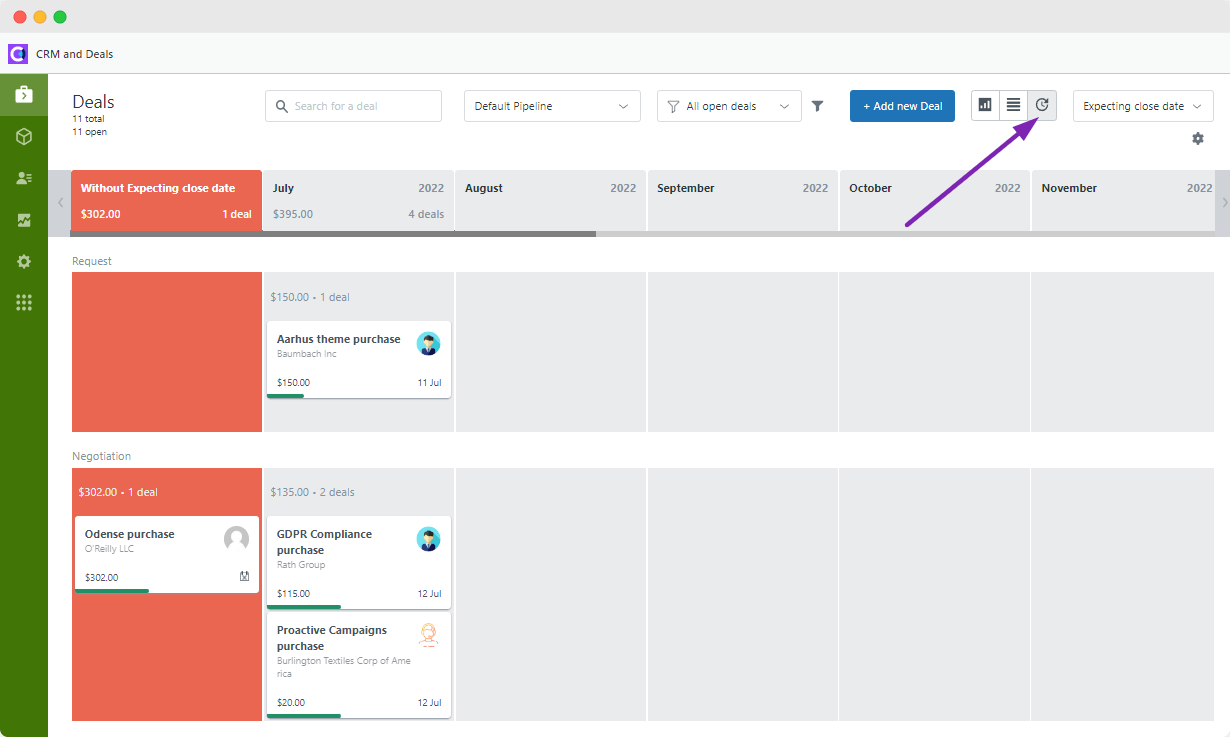 Measure to improve sales
There are four types of reports you can use to analyze your performance. You can check the number of deals you got, how many opportunities you lost/ won, and the reasons why you lose deals.
On top of that, you can filter reports by:
Time - choose a custom date range and display the results daily, weekly, or monthly;
Pipeline - view altogether or a specific one;
Agent - analyze the performance of all agents or a specific one
Group - get the insights into the performance of a specific group of agents
Currency.
The reports are downloadable, so that you can keep track of all your performance results in neatly formed CSV files on your PC.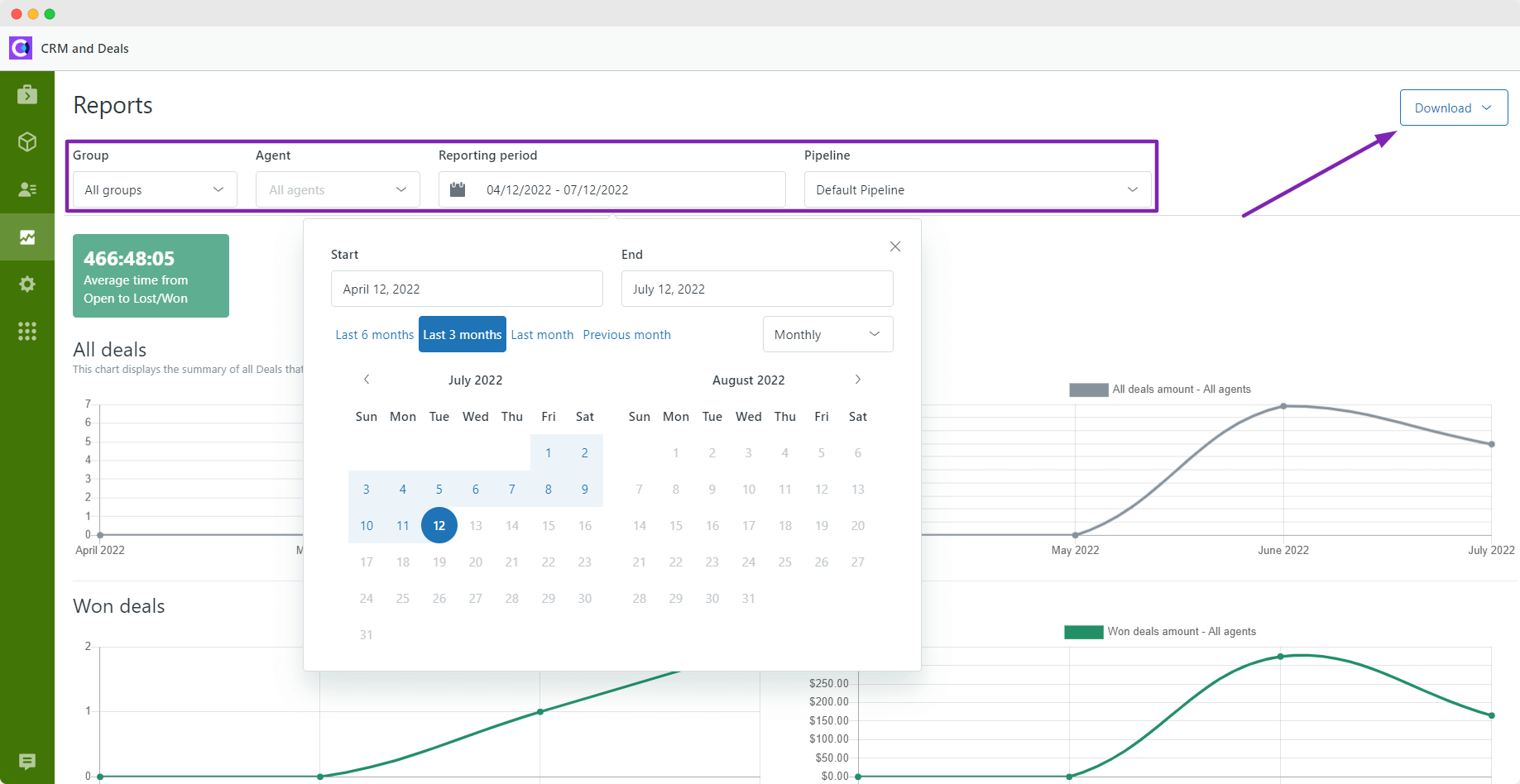 Keep the track of all events
Get the full history of actions taken with your Deals and Lead profiles - see who and when ran a specific action and which CRM object was influenced.
Cheeper alternative of Zendesk Sell and Salesforce
CRM and Deals is the best CRM integration for Zendesk, as it was made exceptionally for Zendesk Support. Combine support and sales seamlessly for affordable prices, especially for mid-sized and small businesses!
Use for free on your testing account
CRM and Deals is free for Sandbox account! Forever!
Are you ready to align the efforts of your support and sales teams? Don't hesitate and install CRM and Deals to capture and manage sales effectively right now!