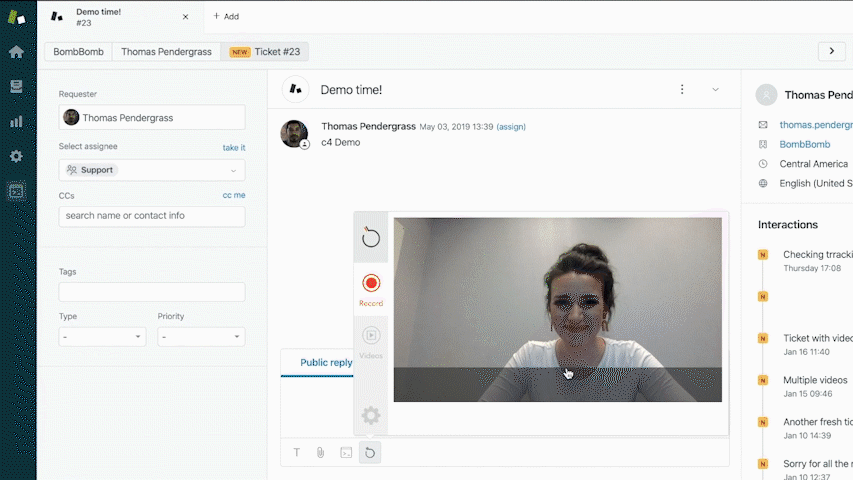 Think about the last time YOU experienced great customer service that exceeded your expectations. What do you think made it so great? Chances are, whoever you were working with displayed feelings of empathy, kindness, and personal attention towards your specific question or problem. All of these positive emotions come from actual human-to-human engagement.
With BombBomb, your team can record or upload videos without ever leaving Zendesk. You can record from your webcam to show your face, record your screen to show the customer's account or explain a complex document, or both at the same time.
When teams are able to communicate more clearly and personally with video, it's been proven to increase CSAT scores, and reduce time-to-resolution. Back and forth email reply chains stop far sooner. A Zendesk video gives the customer the ability to look back again and again as needed, especially when it's a walk-through or how-to. And if a ticket gets re-opened, team members can catch up more quickly watching the video(s) instead of reading long back and forth email chains.
Video, Screen Recording, Tracking, and More
---
Quickly and easily record and send videos within Zendesk.

Your video is being uploaded and encoded while it's being recorded, so it's ready to send almost instantly.

With screen recording, you can demonstrate, illustrate, present, and explain things more effectively. Bonus: your face can be recorded along with your screen.

If you already have a video you want to send, you can select that video from your BombBomb library and embed it in any email.

Insert pre-recorded videos to humanize your macros, saving time and getting the tone right the first time.

Tracking tells you the exact who, what, and when of every interaction with the emails you send, giving you actionable insights into each communication.

Automatic video tagging allows you to track the return on your BombBomb video investment with robust reports

Rehumanize your canned responses by easily inserting videos into macros to improve efficiency, increase engagement, and save time.

End the back-and-forth, typed-out email exchanges earlier for happier customers and happier support team members.
Results We've Seen with BombBomb Inside Zendesk
---
Here at BombBomb, we like to practice what we preach by also using the BombBomb Integration in Zendesk for our own customer engagement. Over a 30-day test period, our Customer Care team was able to reduce time-to-resolution by 82%. This is largely due to the team's ability to provide clarity and context in a more human way. In addition, our care team increased our one-touch resolution by 55%, increased satisfaction survey completions by 35%, and improved our CSAT score from 95% to 98% – just by adding video.
Click here for more information about the BombBomb for Zendesk integration.
Click here to request a demo of the BombBomb for Zendesk integration.